Black and Silver Celtic Dragon Knot Rings,Tungsten Carbide Wedding Band with Resin Inlay Ring
Apr 19, 2023 by tungstencustom
It ultimately depends on personal preference and style. Both the women's and men's Tungsten Black and Silver Celtic Dragon Knot Tungsten Wedding Ring are beautifully designed and feature intricate Celtic knotwork with a dragon motif.
If you are looking for a ring for yourself, consider the size and width of the ring to ensure a comfortable fit. You may also want to consider the design and how it will complement your personal style.
If you are purchasing a ring as a gift, consider the recipient's style and preferences. If they tend to wear more delicate jewelry, the women's ring may be a better choice. On the other hand, if they prefer bolder, more substantial jewelry, the men's ring may be a better fit.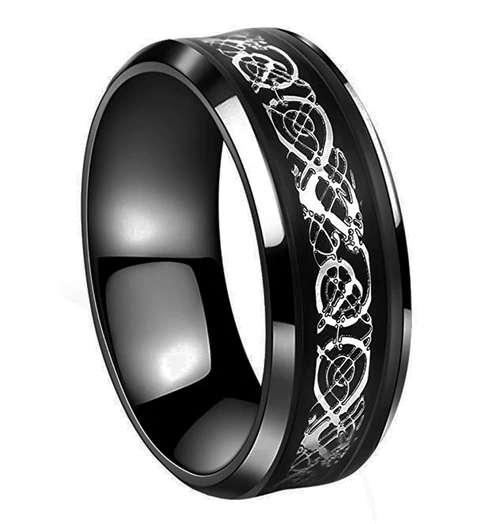 Tungsten Women's or Men's Black and Silver Celtic Dragon Knot Rings,Tungsten Carbide Wedding Band with Resin Inlay Ring,With Mens And Womens For 4mm 6mm 8mm 10mm
Regardless of which ring you choose, both are made of durable tungsten and feature a timeless design that will last for years to come.
It's also important to consider the symbolism of the Celtic dragon knot design. In Celtic mythology, dragons are often associated with wisdom, power, and protection. The intricate knotwork in the design also carries symbolism, with knots representing the interconnectedness of all things and the cyclical nature of life.
The Tungsten Black and Silver Celtic Dragon Knot Rings are a popular choice for couples who want matching or complementary women tungsten rings to symbolize their commitment to each other. The design is versatile enough to suit a range of personal styles, and the durable tungsten material ensures the rings will withstand the wear and tear of daily wear.
When purchasing any piece of jewelry, be sure to check the sizing guide and double-check your measurements before placing your order. It's also a good idea to read reviews from other customers to get an idea of the quality and fit of the ring.
Overall, the Tungsten Women's or Men's Black and Silver Celtic Dragon Knot Rings are a beautiful and meaningful choice for anyone looking for a unique and timeless piece of jewelry.