Black Matte Top with Two Red Stripes and Beveled Edges Bands Ring
May 04, 2023 by tungstencustom
Tungsten carbide is a popular material for wedding bands because it is extremely durable and scratch-resistant, making it ideal for everyday wear. It is also hypoallergenic, which means it is safe for people with sensitive skin.
When it comes to matching wedding bands, you can find both women's and men's Tungsten Rings that are designed to complement each other. These rings often have similar styles or design elements, such as beveled edges, brushed finishes, or inlays of different materials like wood or carbon fiber.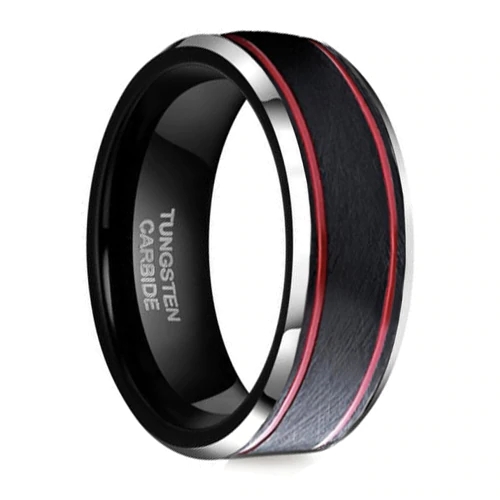 Women's Or Men's Tungsten Carbide Wedding Band Matching Rings,Black Matte Top with Two Red Stripes and Beveled Edges Bands Ring With Mens And Womens For Width 4MM 6MM 8MM 10MM
When choosing a tungsten carbide wedding band, it's important to keep in mind the width and thickness of the ring, as well as the comfort fit of the band. Many tungsten carbide rings are wider and thicker than traditional wedding bands, so it's important to try on different styles to find the one that feels most comfortable on your finger.
Overall, tungsten carbide wedding bands can be a great choice for couples who want durable, stylish, and affordable matching rings that will last for years to come.
Additionally, women tungsten wedding bands come in a variety of finishes such as polished, matte, or satin, which can give the ring a unique look and feel. You can also find tungsten carbide rings with embellishments such as diamonds or other gemstones for added sparkle.
One thing to keep in mind with tungsten carbide rings is that they are very difficult to resize, so it's important to get the correct size when you purchase the ring. Some jewelers offer free or low-cost sizing kits so you can accurately measure your finger before ordering a ring online.
Overall, tungsten carbide wedding bands offer a durable and stylish option for couples who want matching rings that will last a lifetime. With a variety of styles and finishes to choose from, you're sure to find the perfect tungsten carbide wedding band to celebrate your special day.