Black Tungsten Carbide with Silver tone edges. Laser Etched Heart Life-line. Comfort Fit Love Ring
Mar 08, 2023 by tungstencustom
This type of jewelry is often a popular choice for couples looking to express their love and commitment to each other. The durable nature of tungsten carbide rings makes it an ideal choice for wedding bands, as it can withstand daily wear and tear without showing signs of damage or wear.
In addition to its durability, tungsten carbide is also hypoallergenic, making it a great option for those with sensitive skin. The silver-tone edges provide a bright and shiny contrast to the black tungsten carbide, creating an eye-catching look that can be worn with any outfit.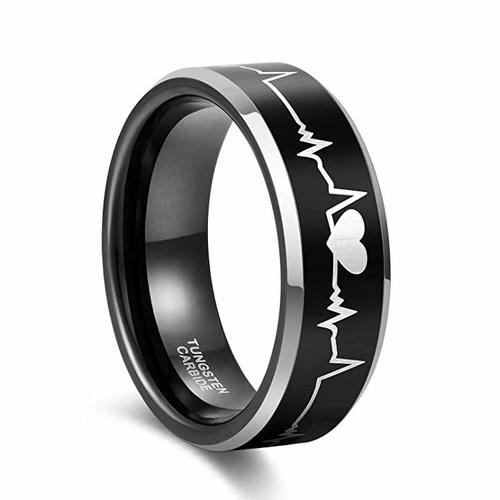 Men's EKG Heartbeat Wedding Band Rings,Black Tungsten Carbide with Silver tone edges. Laser Etched Heart Life-line. Comfort Fit Love Ring
The laser-etched heart lifeline is a unique and personal touch that adds a sentimental value to the piece. It can represent the heartbeat of a loved one or even the wearer's own heartbeat, making it a special and meaningful piece of jewelry.
Overall, the combination of black tungsten carbide, silver-tone edges, and the laser-etched heart lifeline creates a stunning piece of jewelry that is both stylish and meaningful. Whether worn as a wedding band or a statement piece, it is sure to be a cherished item for years to come.