Gold Plated Tungsten Matching Ring Brushed Couple Wedding Band Beveled Edge Comfort Fit Rings
May 06, 2023 by tungstencustom
Gold plated tungsten wedding bands for men are a popular choice for couples who want a durable and stylish wedding band set. Tungsten is a strong and scratch-resistant metal that is often used in jewelry because of its durability. The gold plating gives the rings a luxurious look, making them suitable for formal occasions and everyday wear.
The brushed finish of the rings adds a subtle texture to the surface, creating a modern and understated look. The beveled edge of the rings also adds a touch of elegance, creating a unique design that stands out from traditional wedding bands.
The comfort fit design of the rings ensures that they are easy to wear for extended periods of time, and that they sit comfortably on the finger. This makes them ideal for couples who want a ring that they can wear every day, without worrying about discomfort or irritation.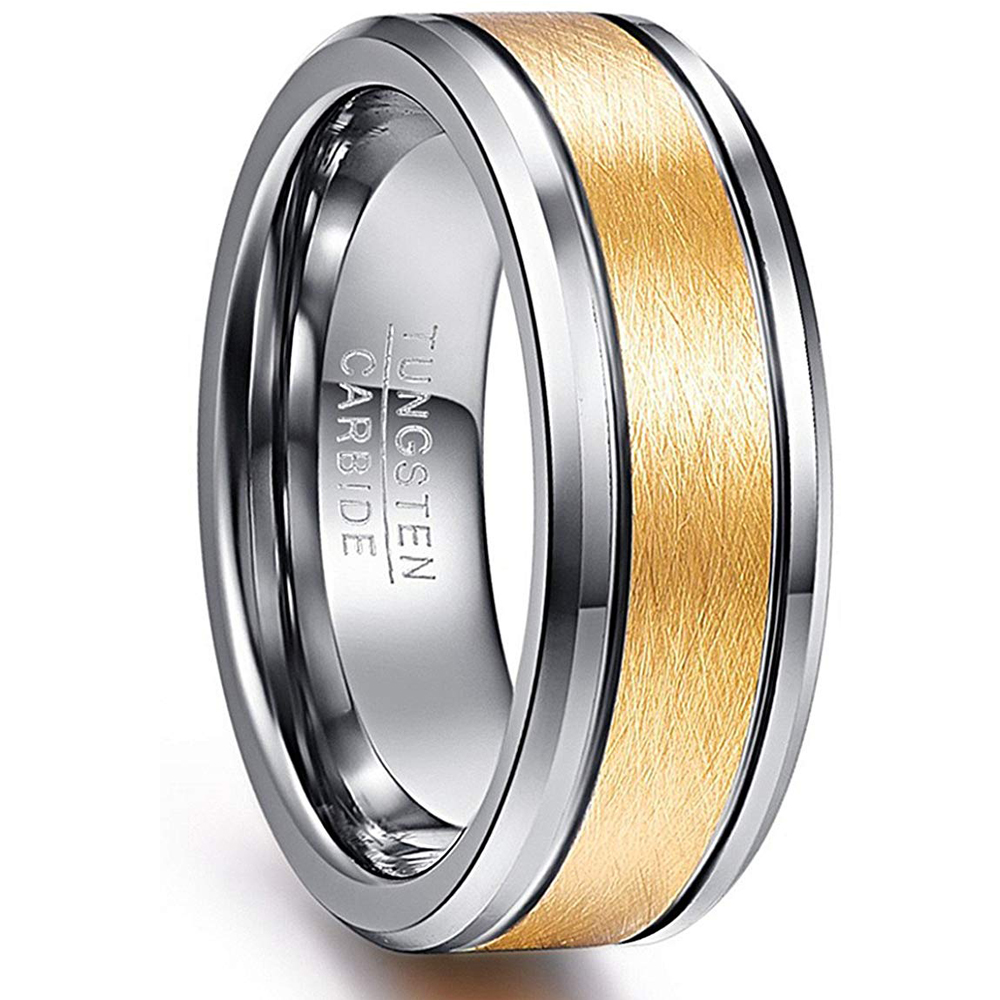 4mm 6mm 8mm 10mm Mens Women Gold Plated Tungsten Matching Ring Brushed Couple Wedding Band Beveled Edge Comfort Fit Men Womens Rings
Overall, the gold plated tungsten matching ring set is a great choice for couples who want a durable and stylish wedding band set that they can wear for years to come.
When choosing tungsten rings, it's important to consider their sizing and customization options. Tungsten rings cannot be resized, so it's important to get the right size from the start. Most jewelers offer sizing kits or size charts to help ensure a proper fit. Additionally, some jewelers offer custom engraving options to personalize the rings with names, dates, or other meaningful messages.
It's also important to note that while tungsten is a strong metal, it can still be damaged under certain circumstances, such as if it's dropped on a hard surface. However, tungsten is much more durable than traditional metals like gold or silver, making it a great choice for those who are active or work with their hands.
Overall, the gold plated wedding bands for mens set is a great choice for couples who want a stylish and durable wedding band set that will last for years to come. With their unique design, comfort fit, and customization options, these rings are sure to be a cherished symbol of love and commitment for any couple.