Silver Celtic Knot Men's or Women's Irish Claddagh Tungsten Carbide Wedding Band Rings
Mar 10, 2023 by tungstencustom
Tungsten carbide wedding bands are popular choices for couples due to their durability, scratch-resistance, and affordability. The addition of a silver Celtic knot design and a laser-etched heart in hands design can add a unique and meaningful touch to the rings.
These tungsten carbide rings are available in both men's and women's sizes to ensure a comfortable fit for both partners. The Celtic knot design is a timeless symbol of infinity, representing the everlasting bond between two individuals. The laser-etched heart in hands design adds a personal touch and symbolizes the love and commitment between the couple.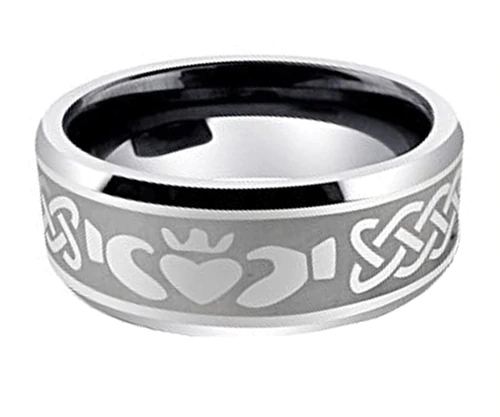 Silver Celtic Knot Men's or Women's Irish Claddagh Tungsten Carbide Wedding Band Rings,Silver Celtic Knot Wedding Bands Ring with Laser Etched Heart in Hands With Mens And Womens For 4MM 6MM 8MM 10MM
When purchasing tungsten carbide wedding bands, it is important to ensure that the rings are properly sized to avoid discomfort or the risk of the ring slipping off. It is also recommended to purchase rings from a reputable jeweler to ensure the quality of the materials and craftsmanship.
Overall, tungsten carbide wedding bands with silver Celtic knot designs and laser-etched heart in hands designs are a beautiful and meaningful choice for couples looking for durable and affordable wedding rings.