Silver Tone Multi Color Blue Opal and Rainbow Abalone Shell Inlay Ring Organic colors
Mar 07, 2023 by tungstencustom
A silver tone typically refers to a metal that has been plated with a silver-colored finish, rather than being made of pure silver. This can make the ring more affordable, while still providing a similar look to pure silver.
Blue opal is a type of opal gemstone that has a blue color. It is a popular choice for jewelry due to its unique appearance and durability. Rainbow abalone shell, on the other hand, is a type of mollusk shell that features a range of iridescent colors. When used in jewelry, it can create a stunning, eye-catching effect.
Because this type of ring features a combination of different materials and colors, it can complement a variety of styles and outfits. It can be worn as a statement piece, or as a more subtle accessory depending on personal preference.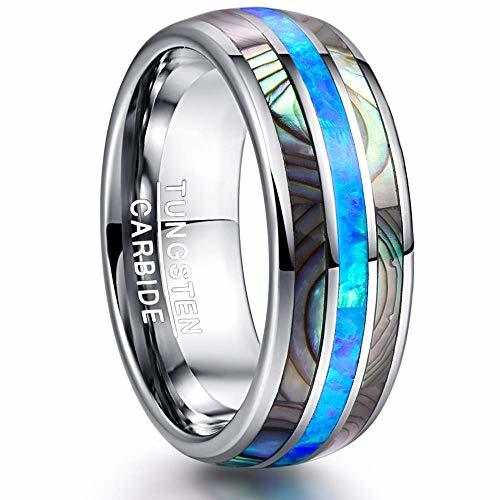 Women's Or Men's Tungsten Carbide Wedding Band Matching Rings,Silver Tone Multi Color Blue Opal and Rainbow Abalone Shell Inlay Ring Organic colors With Mens And Womens For Width 6MM 8MM
The organic colors in this ring likely refer to the natural, earthy tones of the materials used. The blue opal and rainbow abalone shell inlay give the ring a unique and natural look, while the silver tone band provides a modern touch.
This type of ring can be a great option for couples looking for matching wedding bands, as it can be worn by both men and women. It can also be a thoughtful gift for a loved one or a meaningful accessory to add to your own jewelry collection.
When purchasing a ring like this, it's important to consider factors such as sizing, materials, and care instructions. Tungsten tail rings, for example, are known for their durability and scratch-resistant properties, but may require special care to maintain their appearance. It's also important to make sure that the ring is the right size for your finger to ensure comfort and prevent slipping or damage.