Silver Tone Wedding ring bands Comfort Fit High Polished Tungsten Carbide Ring With Mens And Womens
Mar 23, 2023 by tungstencustom
A silver tone wedding ring band made of tungsten carbide is a popular choice for both men and women due to its durability, scratch resistance, and affordability. Tungsten carbide is a high-strength metal that can withstand daily wear and tear, making it an excellent choice for wedding bands that will be worn for many years.
The comfort fit design of this Tungsten Carbide Rings ensures that the ring will fit comfortably on the finger without causing irritation or discomfort. The high-polished finish gives the ring a sleek and modern look, while the silver tone color adds a touch of elegance.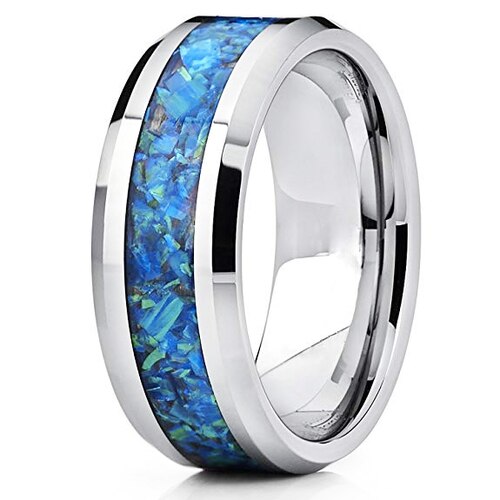 Women's Or Men's Blue Opal Inlay Mens Tungsten Carbide Wedding Band Matching Rings,Silver Tone Wedding ring bands Comfort Fit High Polished Tungsten Carbide Ring With Mens And Womens For Width 4MM 6MM 8MM 10MM
When purchasing a tungsten carbide wedding ring band, it is essential to ensure that the ring is the correct size. Tungsten carbide rings cannot be resized like traditional gold or silver bands, so it is crucial to measure the finger carefully to ensure a proper fit. It is also important to purchase from a reputable seller to ensure the quality and authenticity of the tungsten carbide material.
Another advantage of tungsten carbide wedding rings is their hypoallergenic properties. Tungsten carbide is a metal that is unlikely to cause an allergic reaction, making it an ideal choice for individuals with sensitive skin.
It is worth noting that mens wedding bands are extremely hard and durable, but they are not indestructible. While the material is highly resistant to scratches and damage, it can crack or shatter under extreme pressure or impact. It is essential to treat tungsten carbide rings with care and avoid exposing them to harsh chemicals or extreme temperatures.
Overall, a silver tone wedding ring band made of tungsten carbide is an excellent choice for couples looking for a durable, stylish, and affordable option for their wedding bands. With proper care, these rings can last a lifetime and serve as a beautiful symbol of love and commitment.