Tungsten Carbide Wedding Band Matching Rings,Silver band with Wood and Blue Opal Inlay Ring
Apr 07, 2023 by tungstencustom
When choosing tungsten carbide wedding bands, there are a few other factors to consider as well. One of the benefits of tungsten carbide is its durability, which makes it a great choice for everyday wear. However, it's important to note that tungsten carbide rings cannot be resized like traditional metal Tungsten Rings, so it's important to get the right size from the start.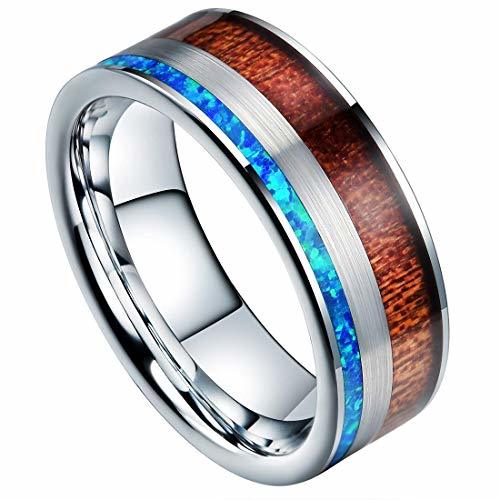 Women's Or Men's Tungsten Carbide Wedding Band Matching Rings,Silver band with Wood and Blue Opal Inlay Ring Comfort Fit With Mens And Womens For Width 6MM 8MM
Additionally, tungsten carbide rings come in a variety of finishes, such as high-polished, brushed, or matte. You'll want to choose a finish that complements your personal style and preference.
Another consideration is whether you want to add any customization or personalization to women tungsten wedding bands. Many couples choose to engrave their wedding bands with their names, wedding date, or a special message, which can make the rings even more meaningful.
Overall, whether you choose matching women's or men's tungsten carbide wedding bands or opt for different styles, it's important to choose a ring that you both love and that represents your commitment to each other.