What are the disadvantages of Blue Turquoise and Inspired Meteorite Inlay Tungsten Ring?
May 12, 2023 by tungstencustom
Tungsten is a durable and scratch-resistant metal, but it can be brittle and prone to shattering if subjected to a strong impact. tungsten rings in silver cannot be resized, so it's important to ensure the correct size is ordered before purchasing.
Inlay techniques like Blue Turquoise and Inspired Meteorite Inlay can add an aesthetic appeal to a ring, but it's important to note that inlays can be more susceptible to damage than solid metal bands. The inlay may chip or scratch over time, especially with regular wear or if exposed to harsh conditions.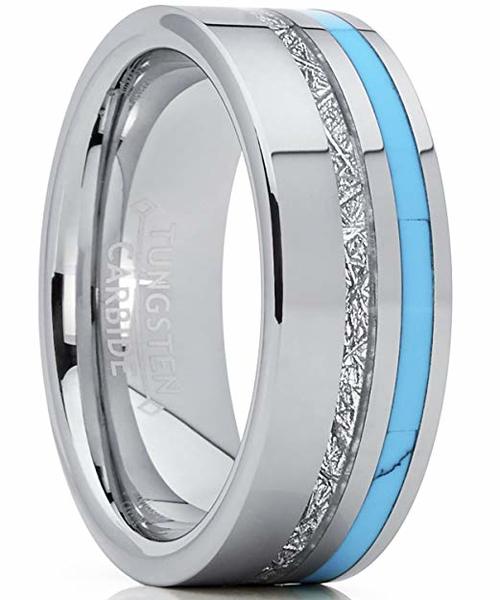 Women's Or Men's Wedding Tungsten Carbide Wedding Band Matching Rings,Silver Tungsten Carbide Bands with Blue Turquoise and Inspired Meteorite Inlay,Pipe Cut Tungsten Carbide Ring With Mens And Womens For Width 6MM 8MM
It's also worth noting that some people may be allergic or sensitive to certain metals or inlay materials, so it's important to consider any potential allergies or sensitivities before purchasing a ring.
Additionally, tungsten rings can be difficult to remove in case of an emergency situation, as they cannot be cut off like traditional metal bands. This can be a potential safety concern.
Furthermore, while Tungsten Wedding Bands are typically more affordable than other precious metals like gold or platinum, they may not hold their value as well in the long term. This can be a disadvantage for those who view their jewelry as an investment.
Lastly, while inlays can add an interesting and unique touch to a ring, they may not be to everyone's taste and can go out of style or become less trendy over time. It's important to choose a ring that reflects your personal style and that you'll be happy to wear for years to come.