What are the side effects of Blue Rim Stepped Edges Wedding Band tungsten rings?
May 13, 2023 by tungstencustom
One potential side effect of wearing Wedding Bands For Women is that they can be difficult to remove in case of an emergency, such as swelling of the fingers. Tungsten rings are made with a very hard and dense metal, which means that they cannot be easily cut off like other types of rings.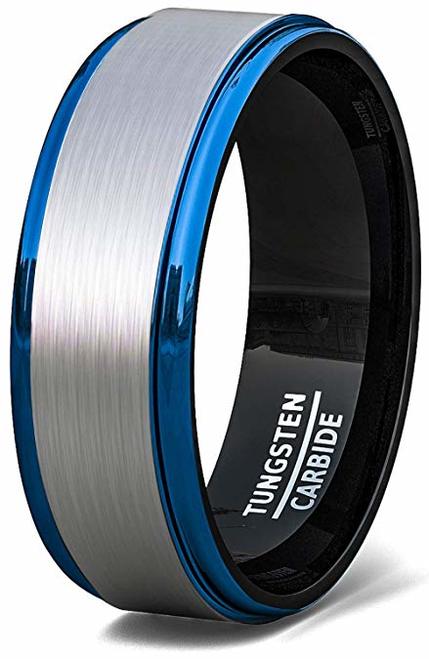 Women's Or Men's Black and Silver Tungsten Carbide Wedding Band Rings With Blue Rim Stepped Edges Ring With Mens And Womens For Width 4MM 6MM 8MM 10MM
Another possible side effect of wearing tungsten rings is skin irritation or allergic reactions. Although tungsten is generally considered hypoallergenic, some people may have a sensitivity to the metals used in the alloy. This can lead to a rash, redness, or other skin irritations.
Additionally, tungsten rings may not be suitable for people who work with their hands or engage in activities that could cause the ring to be struck or bent. Tungsten rings are very hard and can crack or shatter under pressure, which could cause injury.
It is always a good idea to consult with a jeweler or a medical professional if you have any concerns about wearing a tungsten rings in blue or any other type of jewelry. They can provide you with more information about the potential risks and side effects associated with wearing certain materials and help you make an informed decision.