Women's Or Men's Tungsten Carbide WWedding Band Matching Rings,Black Matte Finish with Blue Line Gro
Feb 28, 2023 by tungstencustom
Tungsten carbide wedding bands with a black matte finish and a blue line groove are a popular choice for both men and women. The beveled edge of the ring adds a touch of elegance and refinement to the design.
Tungsten carbide is an extremely durable and scratch-resistant material, making it an ideal choice for wedding bands. It is also hypoallergenic, which is important for people with sensitive skin.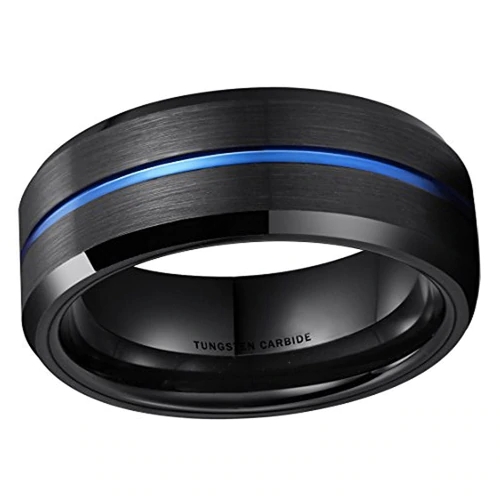 Women's Or Men's Tungsten Carbide WWedding Band Matching Rings,Black Matte Finish with Blue Line Groove,Beveled Edge Ring With Mens And Womens
Matching wedding bands can be a symbol of unity and commitment for couples. Choosing matching tungsten carbide wedding bands with a black matte finish and blue line groove can be a great way for couples to show their love and commitment to each other.
When selecting wedding bands, it's important to consider the sizing, comfort, and fit. It is recommended to get professionally sized to ensure a comfortable fit for the wearer. Additionally, it's important to choose a reputable jeweler who offers high-quality, authentic tungsten carbide wedding bands.